• Have a written plan for how your business or organization is operating safely under new guidelines related to COVID-19 including social distancing, workplace sanitization, employee workplace hazard education, and procedures to address employees, clients, and customers who exhibit symptoms of COVID-19.
• For more information regarding workplace safety guidelines visit: o Department of Labor & Industries Workplace Safety & Health Requirements o Tacoma Pierce County Health Department – Guidance for Reopening
• Provide documentation of COVID-19 related expenditures (monies already spent) based upon itemized receipts and photos of your workplace.
• Be actively operating and physically located in Pierce County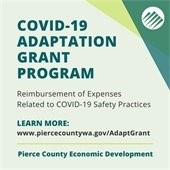 Subject to available funds, grant funds will be provided one-time only. If you qualify, up to fifty percent (50%) of approved expenses related to COVID-19 safety practices may be reimbursed. One-time grants will be awarded to a maximum amount of $8,000, with the exception of skilled nursing facilities, long-term care facilities, and adult family homes that may receive grant amounts up to $10,000.
Corporate chains and corporate franchises are generally not eligible for a grant under this program. 
For more information, visit www.piercecountywa.gov/adaptgrant or contact the Pierce County Economic Development Department at (253) 798-6150 or PCAdaptGrant@piercecountywa.gov.