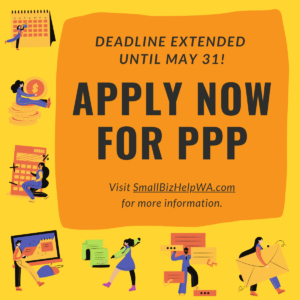 News Flash! US Senate Votes to Pass HR 1799, Extending the PPP Program to May 31!
Here's the legislation: https://www.congress.gov/bill/117th-congress/house-bill/1799 — the bill still needs to be signed into law by the President, of course, but we hope and expect that to happen in just a few days. Time is of the essence, so please go ahead and spread the word!
Here's one new news story FYI: https://www.usatoday.com/story/news/politics/2021/03/25/ppp-small-business-loan-program-deadline-extended-senate-vote/4747395001/
Here's what we just put up on WEDA's Facebook page: https://www.facebook.com/wedaonline — please like and share this post ASAP, or use the attached social media graphics or create your own — just help spread the word! Thank you!
News Flash! The US Senate just voted 92-7 to extend the current Paycheck Protection Program (PPP) round to May 31! Struggling small businesses and non-profits now have two more months to secure a forgivable PPP loan. WA employers have secured 54,471 loans totaling over $4.6B in 2021 alone! Let's get well past our share of $6B, and recover and grow jobs across our state.
There is an amazing network of technical assistance providers and lenders available to help, including in multiple languages. Please check out and share www.smallbizhelpwa.com