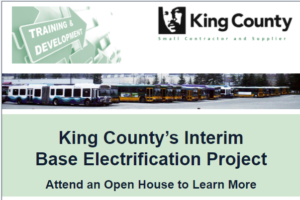 King County Metro is intending to use a Progressive Design Build (PDB) alternative delivery procurement approach 
for the Interim Base Electrification (IBE) project, pending approval from CPARB/PRC at the January 28, 2021 meeting. In order to encourage early teaming arrangements, King County is hosting multiple informational open house sessions for interested firms. 
The IBE project entails design and construction of electrical power infrastructure (in coordination with Seattle City Light), charging infrastructure, charge management systems, and other elements required to support the charging operations for 120 battery-electric buses at King County's Interim Base at South Campus located in Tukwila, WA. This project is fundamental in positioning the remainder of South Base's fleet as well as achieving King County's goal of having a 100% zero-emissions fleet by 2040. 
The project budget for this procurement is approximately $35,000,000 for design and construction. 

IBE Consultants Open House #1 
Jan 8, 2021 10:00 AM Pacific Time (US and Canada
IBE Consultant Open House #2 
Jan 12, 2021 01:00 PM Pacific Time (US and Canada)  
IBE Consultant Open House #3
Jan 15, 2021 10:00 AM Pacific Time (US and Canada) 
Check our website regularly for pertinent news and notices.