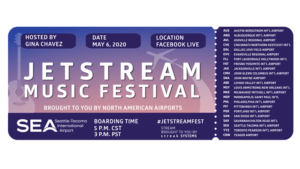 For one night only, more than twenty airports across North America will come together for the JetStream Music Festival, an online celebration of the local musicians who entertained at airports during our travels. Hosted by Austin-Bergstrom International Airport from the "Live Music Capital of the World" in Austin, Texas, the free, multi-hour livestream will take place at 3 p.m. PT on May 6 on participating airports, including SEA's Facebook Live. Each airport will feature a musician local to their city in support of the creative community during the COVID-19 crisis.
"At SEA, we are open and operating for essential traffic, but it's not business as usual and a big part of that is missing our treasured live local performances in the terminal," said Lance Lyttle, SEA Airport Managing Director. "This will be a great reminder to showcase the diversity of music in the Pacific Northwest as well as around the country. Our music is truly an extension of our community's love of all things local – and we can't wait to get them back soon."
The lineup features a diverse range of acts, representing each city's unique music culture. Austin's Latin pop songstress, Gina Chavez, will perform and host the event while SEA's own Tomo Nakayama will perform original folk/pop tunes live from his home studio. The 'Locals Only' Artist of the month of March on 107.7 The End is a regular feature on KEXP and praised by critics from NPR to The New York Times.
Frequently Asked Questions
Details
Date: May 6, 2020
Time: 3 P.M. PST
Organizer
Hosted by: Gina Chavez
Brought to you by North American Airports
FYI
About Seattle-Tacoma International Airport
Operated by the Port of Seattle, Seattle-Tacoma International Airport (SEA) is a top-10 U.S. airport, serving 51.8 million passengers and 453,549 metric tons of air cargo in 2019. As the region's gateway to the globe, 30 airlines connect to 91 non-stop domestic and 27 international destinations. At SEA, we promise to create, through a passionate service culture, an elevated travel experience that's inspired​ by the original nature of the​ Pacific Northwest. 2020 is a monumental year at SEA, ushering in a new era of customer-centered travel with better services, facilities, and amenities. For more information, visit www.flysea.org and follow us on Twitter, Facebook, and Instagram. Every day. Elevate.