Union Station's Santa Fe Room

March 5, 2019

Tuesday, 11AM to 12PM
Sound Transit Vendor Drop-In Session
401 S. Jackson St., Seattle, WA 98104
Tuesday, 11AM to 12PM
March 5, 2019
Sound Transit Vendor Drop-In Session
401 S. Jackson St., Seattle, WA 98104
Tuesday, 11AM to 12PM
March 5, 2019
PRINT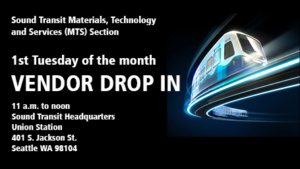 Sound Transit is hosting a Vendor Drop-In Session next Tuesday, November 6th. We will meet with interested vendors from 11:00 am-12:00 pm in Union Station's Santa Fe Room (401 S. Jackson St., Seattle, WA 98104).
This is a recurring event; sessions take place the first Tuesday of every month from 11:00 am-12:00 pm.
Click here to learn more about Vendor Drop-In and Sound Transit's upcoming procurement's; https://www.soundtransit.org/About-Sound-Transit/Doing-business-with-us.