Role Title: Commercial Construction Project Engineer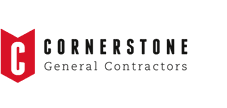 Company Overview:
Cornerstone General Contractors, Inc. was founded in 2003 by local industry leaders with the goal of providing exceptional pre-construction and construction services. Since then, we have successfully partnered with our many clients to construct quality projects that make a difference in the communities we serve.
Cornerstone has built a reputation as a highly competent and dependable firm that always provides exceptional service, upholding the values of commitment, integrity, excellence, and stewardship. Every client we work with tells the same story of a positive, perceptive contractor that quietly becomes a trusted advisor and does the right thing for the client every opportunity. We take great pride in our work, and we are committed to putting our very best into every project, every day.
Role Overview:
Cornerstone is looking for an engaging Project Engineer to join our dynamic team! The primary duties include supporting the Project Manager and Superintendent as they execute tasks necessary to timely and safely execute the project with excellent quality through completion. The position will also work closely with all project stakeholders for issue resolution and problem solving.
In addition, the role of Project Engineer requires strong interpersonal, communication and organizational skills, ability to self-direct, knowledge of construction industry, field construction practices and related construction administrative processes. This position provides construction and contract management support for all phases of the construction project(s) including collaboration amongst project owners, design team members, and subcontractors and suppliers.
The Project Engineer role at Cornerstone is an all-encompassing position with exposure to all divisions of construction and multiple roles, including pre-construction support and scheduling.
Cornerstone's Project Engineers receive exceptional mentorship from experienced professionals within the industry and valuable hands-on experience that will be leveraged throughout their professional career.
The role has exceptional growth opportunity and allows candidates to take an accelerated path in their careers. Candidates are often promoted based on their performance to the Project Manager role or another position, if desired.
Desired Years of Experience:
Required 1-3 years of experience as a Project Engineer role in the construction industry;
Ideal candidates will have 3-5 years of experience working on complex commercial construction projects.
Primary Tasks Facilitated:
Supply Chain Management
Subcontractor Management
Design Team Collaboration
Material Procurement
Quality Assurance / Submittal reviews
RFI Tracking
Document Control
Record Keeping
Meeting Minutes
Status Reports
Productivity Tracking
Punch List
Closeout Documentation
Quantity Survey
Estimates
MEP Coordination
Hard skills:
Required: Experience with MS Office Suite Products (Outlook, Excel, PPT, Access)
Preferred but not required:
Bluebeam
Procore
MS Project
Primavera P6
Navisworks
Revit
Sketchup
Building Connected
Desired Intangible Qualities:
The ideal project engineer candidate is personable, outgoing and possess team-oriented attitude toward all project related activities. It is expected that the project engineer be energetic, hard working, eager to learn and passionate about the construction industry. Furthermore, we are looking for a project engineer who is a great self-starter, organized and has excellent communication skills, both verbal and written.